At 7 a.m. on July 6, 2019, I was approximately 55 feet in the air. I was supposed to be re-rigging the ship's flags, but I had paused for a moment to admire the view. To my right stretched the rocky Maine coast. To my left, a dozen schooners — probably a third of America's traditional sailing heritage — were anchored throughout the harbor.
A motorboat raced by, and though its wake was only a minor annoyance on deck, the top of the mast seemed to sway wildly. There was nothing but a harness and precarious footing between me and a rather unforgiving fall.
It was time to get to work. I shifted positions, sometimes clinging to the ratboards with the barest tips of my toes, sometimes holding my entire body up with my arms to swing my legs around a bar. I ended up nearly lying down on the crosstrees with my foot hooked on a support bar. My palms were sweating, but I've been aloft enough times to know how to force down my fear.
I finished the job after half an hour, and clambered down the ratboards to a smattering of applause from our awed passengers. Most of them had never seen anything like this. I shucked off my harness, flexed my feet for a minute to get my legs to stop trembling, and got right to work helping to set up the breakfast buffet.
Working on a schooner is a job like no other. In the same day, I'll go aloft, clean toilets, wash dishes, power sand and paint a section of the hull, furl sails, and give passengers restaurant recommendations. It's one part adventure, one part hospitality, and one part blue collar work. Days off are few and far between, but that hardly matters, because I never really enjoy them anyway. As the saying goes, ships and sailors rot in port.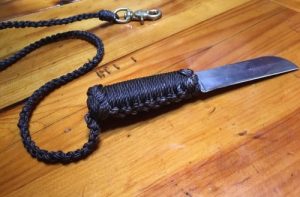 If I got any down time during the day, it was usually filled with projects — I've taken apart and reassembled a fan, made leather chart weights, and taught myself decorative knots. I spent several weeks on my rig knife: doing fancy knot work on the handle to make it thicker and grippier, then making a lanyard and a sheath.
One of the most common questions I get is how I even found this job. It all started in my senior year of high school, when an artist I followed on social media started posting about her job on a schooner in Maine. After a little research, I found there was an entire fleet of traditional sailing vessels running multi-day cruises off the Maine coast. I weighed my options: spend the summer before college in the same smoothie shop I'd worked in for months, or go halfway across the country to work on a tall ship. Not much of a contest, really.
My job interview went something like this:
"Why do you want to work on a schooner?"

"I'd like a job to kick my ass for a few months before I start college."

"Okay, I'll kick your ass."
And then I was hired.
I ended up working there for three years, first in the galley, and then on deck. It hasn't always been great — I've had injuries, issues with coworkers, and dealt with some sketchy situations, but the good times far outweighed the bad. It's hard to feel down when you can admire the sparkle of bioluminescence in the water, then look right up at the Milky Way.
Sailing has taught me a lot of skills, some of which you wouldn't necessarily expect. Of course I've learned how to tie knots and handle a line, but I've also mastered the fine arts of making small talk, saying an elevator pitch, and giving instructions. After all, I was trapped on a 90-foot boat with 25 people for nearly a week. If I wasn't a people person when I started, I am now.
I've already got plans for next summer, so I doubt I'll be sailing next year. I'll definitely miss my leathery hands and beefy biceps, but more importantly, I've found some of my most important friends and mentors through sailing. Though I'm excited to go back to school, the feeling is bittersweet.