I've had a travel bug for as long as I could remember, so when my friend Zoe suggested going somewhere cool for spring break, how could I refuse?
She initially suggested New Zealand, but I thought that was way too far out of the way. The time difference alone would make it exhausting, not to mention the nineteen hour flight!
After a few hours of deliberations and research, we finally decided on Peru.
Getting there was not easy. Both of us were working with very tight budgets, so although we were only on a plane for twelve hours, we were in transit for twenty six hours. I took a greyhound to New York, met up with Zoe, flew to Mexico City, then flew onward to Lima. It was grueling, but we finally made it out of the airport at 6 p.m. on Friday.
It probably would have been a good idea to ask our hostel to send a taxi to pick us up, but neither of us thought of it. We ended up in a cab with a driver who tried to convince us we should go to a different hotel than the one we asked for (that hotel would then pay him a commission for taking us there). But, we finally made it to our hostel, conveniently situated directly across from the art museum! It was a gorgeous old colonial house, and I was sorry we were only going to stay there for two nights.
We only had one full day in Lima, so we decided to take the free walking tour offered by our hostel in order to see as much as possible. The tour mostly centered around the Plaza de Armas, but we learned a lot about Lima's history, both before and after the Spanish invaded.
The next morning, we took a bus to Ica. Lima is technically in a desert, but you wouldn't know it by staying in the city. Ica, on the other hand, is a city among sand dunes.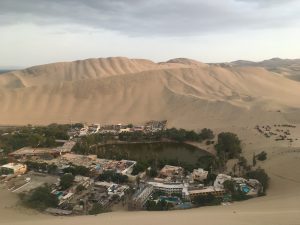 Ica's biggest draw is the Huacachina oasis. Though water stopped flowing into the lagoon in the 1980s due to human activities, water is pumped in from a nearby farm in order to preserve the lagoon and the tourist industry surrounding it.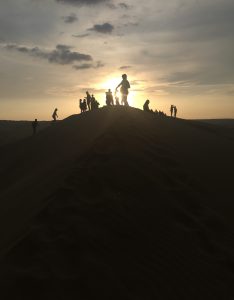 The whole place is a little bit of a tourist trap, but that doesn't stop it from being absolutely beautiful! We hiked a sand dune to watch the sunset.
We'd heard there was a wine festival in town, so the next day we set out to find it. After a lot of research, we determined it was taking place in a park fairly close to our hostel.
It was not in the park.
We did however find a zoo, which looked open, so we went in.
We immediately fell into a conversation with two students, Diego and Gina, who volunteer at the zoo for school credit. We talked to them for two hours! Though initially we just worked through some questions they had about English grammar, we eventually began talking about our lives, our cultures, and everything in between. I've never formally studied Spanish, but I was proud of how much I could follow along anyway.
That night, we took a bus to Cusco, which was the capital of the Incan Empire. It's home to countless ruins and is the nearest city to Machu Picchu. It's a beautiful city surrounded by mountains, with an elevation of over 11,000 feet!
For our first full day in the sacred valley, we went to the nearby town of Pisac.
As soon as we arrived, we met a guy who I eventually dubbed Colombian Supertramp, because he was A) Colombian and B) in the middle of walking across South America.
We decided to go on a hike with him along a river. A dog we'd stopped to pet in town followed us, and our little entourage set out for adventure! Along the way we talked about plants and their uses, discussed folklore, and told travel stories. In addition to being well traveled, Supertramp was a very spiritual person, and we stopped midway through the hike so he could pray.
He ended up coming back to Cusco with us, and spent the evening making a heroic effort to flirt with both of us at the same time. It's pretty hard to convince two girls you're equally interested in them, but he didn't let that stop him!
The next day, we went to Machu Picchu.
We decided to hike up instead of taking the bus because we're tough chicks who aren't afraid to sweat, but we definitely were not prepared for the altitude.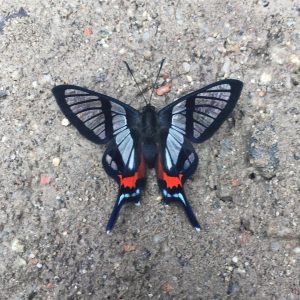 I may or may not have gotten a massive head rush and almost passed out while standing up after taking this picture.
However, we made it to the top with our limbs intact, and it was definitely worth it.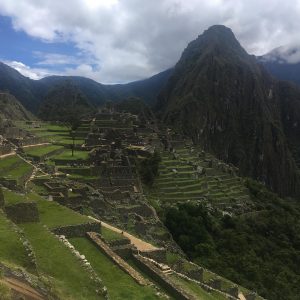 The sky was spectacular.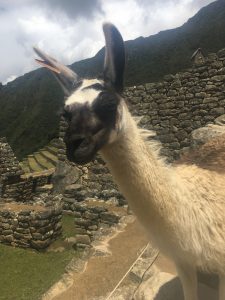 I also got menaced by a llama.
Since both Zoe and I are artists, we took the time to sit and sketch, which was a nice break from all the climbing.
We were so involved in sketching, we forgot to keep track of time, and ended up having to run down the mountain to catch our train back to Cusco!
We spent our last day in Peru cafe-hopping and catching up on our journals. After all, we were on vacation!
Overall, I loved Peru. I've traveled to a lot of places, but I've never seen landscapes like this! The mountains of the Sacred Valley were stunning, and the desert around Ica was more beautiful than I ever imagined it could be.
This wasn't even my favorite part, though. A lot of people go to Peru to hike the Inca trail, or do one of the other famous treks. I'm sure that's a wonderful experience, but personally, I love cultures and people. Mountains and ruins are pretty neat, but there's nothing I love more than trying some street food, making a new friend, and picking up a few words in a new language.